At the dawn of the twentieth century, an eighteen-year-old Jean Etchart arrived in the United States from the rural town of Aldude in the Northern Basque Country. Jean was born there on August 2, 1882. As he reached adulthood, Jean decided to join his older brother Michel in America, who had immigrated to southern California some years prior. On his arrival to California in December of 1900, he began working as a sheepherder in the Santa Monica hills. In the following spring, he began working for another sheep ranch north of Burbank in San Fernando Valley.
As southern California's rangelands became increasingly crowded, the now John and Michael Etchart decided to move to northeastern Nevada and build a sheep business of their own. From 1901 to 1909, they formed a sheep partnership in Nevada's Elko County that grew from about 6,000 head of sheep to 20,000. In late 1909, they dissolved the partnership and returned home. Those Nevada years were crucial to John Etchart's personal and professional development. He not only became a knowledgeable rancher, but accumulated enough capital to restart with a new sheep operation.
In spring of 1910, John was back in the United States. But this time he was travelling alone. His brother, who was conscripted into the French army, had to stay in the Old Country. John traveled to northeastern Montana instead of returning to Nevada. By late 1910, Etchart set up a sheep grazing business in Montana's Valley County, quickly becoming prosperous selling wool, lambs, and mutton through national markets. In late 1911, he acquired one hundred and twenty acres of land turning this property into his home ranch. From 1911 to 1916, Etchart's sheep operation grew from 6,000 head of sheep to around 15,000. The extremely hard winter of 1916-17 would wreak havoc on the livestock industry. Like most ranchers, John Etchart ran out of hay for his sheep suffering heavy losses. After that winter, Etchart acquired additional irrigated land north of Milk River as a buffer against the risks from both the weak environment and uncertain economic conditions.
By 1920, Etchart's was considered the county's "largest sheep ranch" and yet continued to expand significantly buying more land. During the 1920s, while John greatly expanded his land-water holdings, he did not pursue a capital-intensive and vertically integrated sheep company. He neither acquired monopoly power in the retail meat and wool market, despite the fact his sheep enjoyed an enviable reputation at the market. On the contrary, and even before the Great Depression struck American agriculture, John sought diverse ways of improving economic and marketing conditions for all the stock operators, either small or large, of Valley County. In January 1921, John was added to the directorate of the Milk River Valley bank of Glasgow (Montana) and in August 1922 was d vice-president. From this position, John worked to make long-term loans to local ranchers for working capital.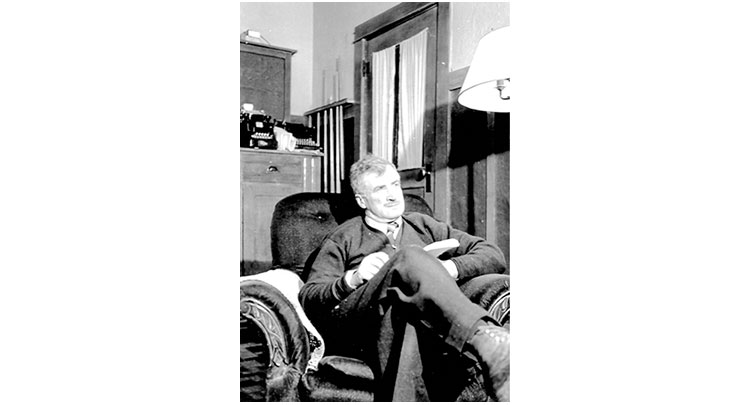 John Etchart, circa 1939. Tampico, Montana.
Source: Etchart Family
Furthermore, John sought after cooperative practices with other ranchers to respond to competition largely from imports of foreign wool. In March 1921, the Valley County Wool Growers' Association was organized in Glasgow mainly to enhance sales of wool –which had been in decline for the last year in Montana– and thus improve returns to local sheepmen. John Etchart was one of the founding members of this association and one year later, in March 1922, was elected president. Later, in March 1925, he became a member of the National Wool Exchange, an organization that succeeded the National Wool Warehouse & Storage Co. for cooperative marketing of wool.
By 1930, when John was forty-eight, he had amassed near 18,500 acres of land. In the early 1930s, just as the American economy was sinking into an economic depression and many farmers were going bankrupt, John continued buying land and making it productive. The construction of Fort Peck Dam –as a National Industrial Recovery Act project in 1933– wiped out large tracts of land customarily used for grazing. The loss of access to these pastures and the financial difficulties experienced during the economic Depression forced many local ranchers to sell off their properties. John Etchart took advantage of that opportunity to expand his business holdings and make it more secure by acquiring more land and capital. At that moment he also began combining sheep and cattle in his operation responding to a highly volatile market situation.
By then, John Etchart was a noted member of the local business community of Valley County and further a prominent sheepmen in the American West. From the late 1920s to the early 1940s, John served as an utive board member of the Montana Wool Growers Association. John Etchart's commitment to the livestock industry and local community had a significant influence not only at local level but more importantly at state level. Among other things, Etchart was instrumental in upgrading the quality of range sheep and cattle, facilitating deployment of modern agricultural technologies, and connecting the area to national markets.
In April 1943, John Etchart succumbed to a sudden heart attack. He was then sixty years old. With both a strong desire to succeed in ranching and to become a part of a small rural community, his immigrant experience made him a more cooperative stockman, respectful toward nature on which he depended, and compassionate to other local community members of Glasgow.
---
Iker Saitua is a historian and Basque Government postdoctoral fellow at the University of California Riverside and the University of the Basque Country (UPV-EHU). He is the author of Basque Immigrants and Nevada's Sheep Industry: Geopolitics and the Making of an Agricultural Workforce, 1880-1954 (University of Nevada Press, 2019).
---