The Center for Basques Studies of the University of Nevada announces the opening of the competition for an assistant professorship position

Gloria Pilar TOTORICAGÜENA
Itzulpena euskaraz
Dr. Gloria Totoricagüena Egurrola (1961 Boise, Idaho) is the Director of the Center for Basque Studies and she invites applications for position openings for an assistant professorship and also for graduate students to come to Reno to conduct their studies and earn a PhD from the University of Nevada, Reno.
The Center for Basque Studies of the University of Nevada, Reno announces the opening of the competition for an assistant professorship position, which focuses on full-time research and is a tenure track position, which is equivalent to "titularidad". This position includes teaching only one course per semester and the emphasis of the work is on the individual's choice of fieldwork, research, conference participation and publication of articles and books. We have very privileged positions within the university because 60% of our expected work is for researching in the disciplines of our choice. For example, Dr. Xabier Irujo is researching the Basque Government-in-exile, but is also interested in Basque political philosophy. His research counts for 60% of his annual evaluation. He chooses the courses he will present to the University of Nevada, Reno for their approval, and then he teaches one course per semester. That teaching requirement is only 20% of our time commitment. The remaining 20% of our professional expectation is spent in service to the academic community by participating on committees, organizing conferences, serving on editorial boards of academic journals and serving the global Basque community by providing information and networking for them.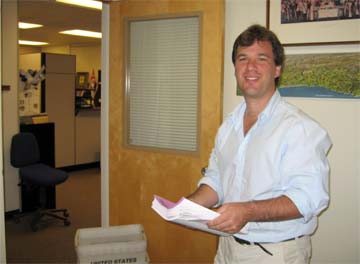 Dr. Xavier Irujo joined the centerfor Basque Studies in 2006.
Qualifications for applicants include:
Ph.D. earned within humanities or social sciences. Preferred disciplines include Basque literature, linguistics, diaspora studies, history, political science, anthropology, sociology, art, philosophy and women studies.
Demonstrated record of scholarship, including formulating, conducting and publishing original research regarding Basque homeland and/or Basque diaspora society and culture. For recent PhD graduates, fieldwork experience and conference participation will be evaluated.
Conference presentations experience preferred;
Teaching experience preferred;
English language proficiency necessary in order to teach class in English
Fluency in Spanish or Basque is required and additional knowledge of French is advantageous.
Reno is a great place to live and the experience of working in a USA university, yet promoting Basque Studies is to have the best of both worlds. We do everything we possibly can to promote research on the Basques to the academic world and participate in networks around the world. For example I have just returned from Armenia where I was invited to give a presentation comparing the Basque and Armenian diasporas. Four thousand people participated! Next week I will be at Columbia University in New York discussing political conflict resolution.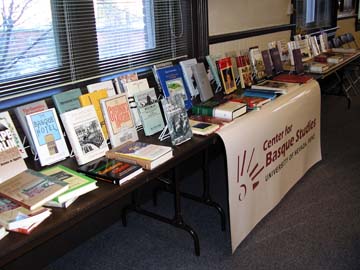 We also promote flexibility for fieldwork. Dr. Joseba Zulaika has just returned to Reno after enjoying nine months of fieldwork in Bilbao. Dr. Sandra Ott has spent months researching the effects of the German occupation in Ziberoa and has interviewed numerous people and investigated in many archives in Iparralde and France. The academic freedom and flexibility of scheduling allows us to teach two courses in one semester, and then depart for fieldwork during the next semester if we need to.
The Center for Basque Studies also organizes international conferences with the world's top scholars invited to Reno to participate in specialized debates and critiques of theory and practice. Of course this is a significant advantage for new assistant professors to have the experience to help organize important conferences and to also participate with world academic and intellectual leaders.
I encourage anyone interested to apply immediately by going to the UNR human resources website at.
You can also contact our office manager, Kate Camino, at basque@unr.edu.
We will also have two 3-year scholarships for PhD students in Basque Studies available for the 2007-2008 academic year. UNR deadlines for applications are February 1, 2007, and anyone interested should begin to prepare their applications and English exams and look at the detailed information on the Center for Basque Studies website.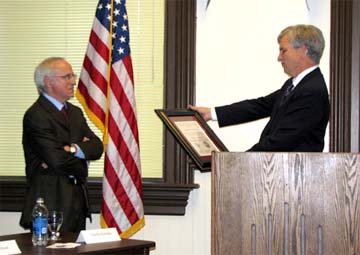 Profesor Gregorio Monreal was named the William A. Douglass Distinguished Scholar 2005-2006 at the center for the Basque Studies.
The Center for Basque Studies is growing but each student receives individualized attention and can construct their own area of study. Students earn a PhD in Basque Studies with an emphasis in any area of their choice. For example one of our students, Argitxu Camus Etxecopare, is earning a PhD in Basque Studies with an emphasis in history, so she has specialists from the UNR History Department on her PhD committee. Juan Arana is researching Basque Studies with an emphasis in philosophy, so he has two professors from the UNR Philosophy Department on his committee. Each student can determine their own course of study and their own plan of fieldwork and thesis topic. It allows much more academic freedom than in other universities. We hope to have several additional students applying for next year and I encourage anyone with any questions to please contact us at: basque@unr.edu