A basque in Oxford
Xabier Ezeizabarrena, Basque Visiting Fellow, St. Antony's
Traslation: Xabier Ezeizabarrena
Euskara
Español
Michaelmas term, week 8
Brasenose College unicorn
During the last days my activity step into Brasenose College. This College maintains, to the contrary of many others, a more practical tradition that purely intellectual. It has been a known college by its rugby team, usual incidents and the physical impressive performances of many of its members. It I also the usual frame for mighty stories on Oxford and various events. Among old stories, it is always reminded the one giving name to the College through a famous knocker pending above the "High table" nowadays together with an impressive unicorn having a very big and erect penis that may leave you seriously affected. The corner between Brasenose, Radcliffe Square and its famous buildings is one of the unforgettable images of the town, specially during the foggy winter nights after a gorgeous "High table", right below the powerful and threatening unicorn.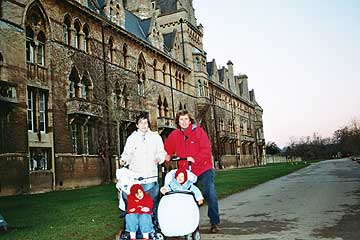 Christ Church Front. Xabier Ezeizabarrena and family.
Hilary term, week 9
The deer of Lawrence of Arabia
My relationship with the Welsh in Oxford brough me to know "The Welsh" one or Jesus College. Oxford always had a close relation with Wales due to its geographical situation, right between Wales and the City, so as because of working posts within the powerful car industry in Oxford, while Wales was suffering a strong industrial crisis. Many of those Welsh people's soons became Jesus College students, a well known place for its fights with neighbour Exeter around Turl Street. Jesus was the place for Lawrence of Arabia history studies living here since he was 12 years old. After the first world war he accepted a contract to work in All Souls College, only staying during the first year while taking part in the post war negotiations. He was indeed very helpful for Winston Churchill being obliged to leave the town in many ocassions. However, some of his time in Oxford were portraited by Robert Graves in his book "Goodbye to All That" (1929). Here he talks about Lawrence concern on the grass quality of the colleges quads, so as regarding to the stolen deer usually living at Magdalen College. Lawrence was strongly determined to bring the deer to the quad of All Souls whereat, according to Lawrence, that deer use to live in freedom since a long time before.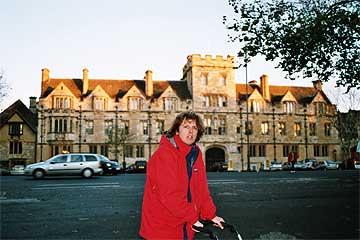 Sant Johns.
Hilary term, week 11
Christ Church Tower.
Oxford and Isis are as well a linked part of a very long love story between the town and the Thames swimming both together in mutual support. And therefore, there is no Oxford without Isis nor viceversa; the river travels North to South of the city drifting around the canals while embracing the woods and parks, Christ Church or Magdalen College just like trying to go into them and swim again into their most deep history. And it gets closer to them using the old coal steamers or vessels until those crafts might become little but speeder boats and rowing vessels that sail together breaking the morning fog.