The Basque ethnic communities of the world have benefited from the many musicians who have dedicated their lives to learning and teaching the art of playing Basque musical instruments, as well as playing Basque music on classical instruments. In theories of ethnic identity maintenance, we often find that music and dance serve as ethnicity markers for latter generation ethnics attempting to preserve aspects of their group distinctiveness. Utilizing the example of one of these musicians in Idaho, Jim "Jimmy" Jausoro, this article will demonstrate the significance of his music to Basque culture in the American West.
Jim Jausoro was born in 1921 in Nampa, Idaho to Tomasa Mallea (Ereño, Bizkaia) and Tomás Jausoro (Gipuzkoa). His neighborhood was predominantly Basque with Basque families on both sides of the street. The Jausoro family operated a boarding house, the Spanish Hotel, and had as many as thirty sheepherders that his mother Tomasa cared for and fed at any one time. The length of time that each herder stayed at the boarding house varied, depending on the season and how close they were to their work in the Treasure Valley hills. Many came in and out and left their belongings at the Spanish Hotel for safekeeping. They usually paid monthly for their board and room. Often, new immigrants would arrive to Nampa by train, and it was Jim's job to meet them at the rail station, which was less than a mile away from their home. He would pull their bedrolls and/or luggage in his small wagon from the train platform to the boarding house.
There were additional boarding houses in Nampa where Basque sheepherders could stay. The Piemonte was across the street from the Spanish Hotel and was managed by an Italian family named Bruno. The Bastida family also had a boarding house nearby and Jim does not remember that there was any real competition for the boarding customers. However, he does remember that sometimes the herder might go where they "best liked the looks of the women working at the boarding house." In the Spanish Hotel, the Jausoro family, mother, father, four sons and two daughters, lived downstairs and the sheepherders lived upstairs. The entire Ansotegui family lived with them for a while, and there were also eight or nine Basque families living on the same city block. The boarding house institutions functioned as social gathering places and it was common for Basques to visit from one house to another for dances, singing, mus card games, and listening to accordion. On Sunday afternoons Tomas Jausoro would start a card game with Candido Mendiguren, who would walk over from town, and the women, "Mrs. Gabica, Mrs. Navarro, Mrs. Ereño, and Mrs. Ansotegui would play briska or casino on many evenings. They played for pennies, and had many great arguments." One thing they did agree on was that Jimmy had musical talent and the Basque community in Nampa enjoyed his musical entertainment. The boarders of the Spanish Hotel were Jim Jausoro's first audience.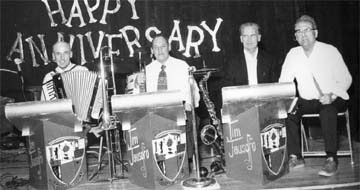 Jimmy Jausoro and His Orchestra.
Typically Tomás and Tomasa spoke to the children in euskera and they would answer in English. Jim's parents spoke very good English, and they always spoke Basque with each other. Tomasa dealt with many non-Basque speaking people because of the hotel business, for example the Chinese selling eggs, the Japanese selling vegetables, the French at their bakeries. There were many Chinese and Japanese families in Nampa at the time, only a few Mexican families, and no African-Americans. A family named Lalande established a French bakery right in the downtown area where the boarding houses were situated. The French were all Catholic as were the Czechs and Basques and many Germans, and the Sunday masses were fully attended in the 1930s through the 1970s.
Jim's siblings Louie, Lola, and Tony participated in the Glee Club for singers and sister Marie was selected for singing parts in local musical productions. Their mother knew many Basque and Spanish songs that she would sing and try to teach them. The trikitixa songs had to be metered, and Jimmy would try to repeat them to her. Just being around the Basque sheepherders and hearing their music provided some of his best lessons and great memories. Louie Barnes allowed Jim to play his accordion, and Jim also learned by listening to John Urlezaga and Vic Arego from Boise. Vic Arego played accordion for the Basque community picnics in the 1930s, which added a festive factor to the gatherings with people learning and singing the traditional Basque songs, as well as the folk dances. The new immigrants provided a constant stream of Basques who knew the songs and dances and served as examples for United States born Basques who were forgetting these details of their culture. Jimmy had always been interested in music and when he bought his first accordion he was excited to play the Basque music for song and dance that he has heard from other Basque accordionists.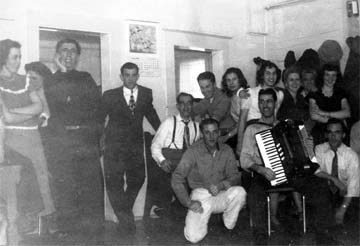 Shoshone, Idaho. Basque music with Domingo Ansotegui. 1950
In 1933, at the age of twelve, Jim Jausoro had saved $120 to buy myself an accordion; it was a brand new Chromatic piano accordion. Some of the money came from a jackpot that he had won at the Spanish hotel. He bought his accordion from Charlie Johnson at the Samson Music Company where he knew Lola Mendiguren, a pianist, also worked. He took lessons for six or seven months from a woman named Frechette who traveled to Nampa from Boise teaching the piano accordion and he rode his bicycle to his lessons carrying the accordion in one hand and steering with the other.
The first time Jim played publicly was in the local pool halls, where he got paid nickels and pocket change from those listening. The Basque ladies social club in Boise, La Organización Independiente Sociale (sic), sponsored dances in the various boarding houses in the valley starting about 1935. Jimmy played in Nampa and Boise at the boarding houses of Mateo Arregui, the Letemendi's, and at Patxi's on Main Street. "Chardio", Domingo Ansotegui's uncle, played tambourine, as did Joe Anacabe. "We played all night-that was my life", said Jimmy. Every Sunday night Basque musicians would play at the boarding houses and Basques from the communities would join the boarders in dancing and singing. The biggest events included the celebration of Epiphany, or Three Kings Day on January 6, and other dances through the holidays. Other special days with hours of music included the festive Basque picnic dances. Attendees continue to mention the importance of the music as the means to gather Basques together for celebration, and the dances for finding marriage partners as salient in maintaining their Basque identity, even seven decades later.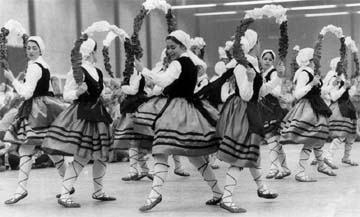 Oinkari Basque Dancers.
Jim won a talent competition just two years later when he was fifteen years old. He entered a sponsored contest called the "Amateur Hour" at the Adelaide Theatre in Nampa. He rode a bus to Portland, Oregon where he participated in the Amateur Hour show at the KGEW studio, and introduced the national audience to himself as a young Basque boy from Nampa, Idaho. Later, during his WWII naval service, he took his accordion along and learned to play other types of what he called "modern music". In the 1940s, Jimmy, John Anduiza, Domingo Ansotegui, Frank Arego, Joe Villanueva, Angeles Murelaga, and Ray Mansisidor were several of the performing accordionists.
Jim Jauroso states that he learned to really play accordion from Vic Arego and he completely idolized him. There was a Basque man from Emmett named Mitchell who played as well as another named Arrieta. Before beginning a forty-year partnership with Domingo Ansotegui, Jim played with Domingo's uncle "Chardio", then with John Arregui and Dick Lenhardt, and other musicians included Cecil Holmes and Ralph Fry on the drums. These musicians played casually in Vail and Ontario, Oregon, and in Nampa and Boise for Basque or American events. He also played with a man from Nevada named Clete Bengoa and with various Basque herders who played button accordions, and soon teamed with Domingo Ansotegui (who lived across the street in Nampa) and both learned by ear from listening to the music repeatedly. Jimmy remembers that they learned the music from records from Mexico because those were the only available materials. He learned musical melodies from his mother and from the ladies at the hotel who sang Basque and Spanish songs. Jim realized that singing the Basque songs for those from the Basque Country served as an emotional connection to their homeland, and that it was a meaningful part of their Basqueness.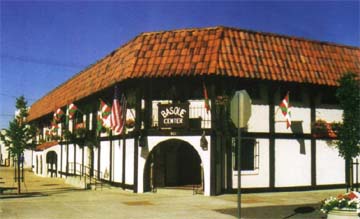 Euzkaldunak Incorporated.
Jimmy Jausoro and Domingo Ansotegui began playing accordion for Juanita Uberuaga Hormaechea in 1947 when she requested several musicians' help to teach young children Basque dancing. They also traveled around southern Idaho playing at boarding houses and Basque dances. At one point, he and Domingo decided that they would have to do something different and not have both playing the accordion, but they needed another instrument, so Domingo took up the challenge and went on to become a tambourinist and drummer. Ansotegui purchased a cocktail set of drums with a bass that stood upright, a snare, tom-toms, and sticks in 1956, and became the drummer for their band. Jimmy eventually formed an official band in 1957 named "Jimmy Jausoro and His Orchestra".
The "Jim Jausoro & his Orchestra Band," played both Basque and contemporary music for dances, weddings, picnics and Basque festivals around southern Idaho, eastern Oregon, and northern Nevada. Each of the musicians had their own day jobs: Jim worked for the railroad and Domingo for Interstate Electric. By night, they practiced for upcoming billings. They began their decades-long career together at the Euzkaldunak Incorporated Anniversary Dinner and Dance on November 16, 1957. The Jim Jausoro dance band consisted of members Domingo Ansotegui on the drums and tambourine, John Arregui on the also saxophone, Dick Lenhardt on the trumpet and trombone, and Jimmy Jausoro on the accordion. No one knows, or even ventures a guess, as to how many thousands of miles these four men and their wives traveled together. From December through April, most Friday and Saturday nights were booked at Basque dances and Sheepherders Balls in Jerome, Twin Falls, Elko, Ely, Winnemucca, Gooding, Grandview, Bruneau, Mountain Home, Caldwell, Marsing, Kuna, Melba, Jordan Valley, and Ontario. May gave them enough time for a quick breath before the wedding season and the Basque picnics and festivals started up again June through September. Isabelle Larrondo Jausoro managed her husband's business and booking arrangements, and in 2002 still does.
In October 1972, the Euzkaldunak, Inc. honored Domingo Ansotegui and Jim Jausoro with special plaques commemorating their service to the Basque community. Their hours of entertainment included performances with the Oinkaris at the Seattle World's Fair, New York World's Fair, the Smithsonian Institute Folk Festival in Washington D.C., and the Montreal World's Fair as representatives of the United States State Department. In the April 1975 issue of Voice of the Basques, editors John Street and Brian Wardle pointed out the work of more than 25 years of Jimmy and Domingo in providing music and entertainment for the Basque folk dance groups of children and the Oinkaris. Another twenty-five years later, Jimmy tirelessly continues to provide music accompaniment to the Boise'ko Gasteak children's dancing group and to the Oinkari Basque Dancers with his tambourine player, Juan Zulaica.
Oinkari Basque Dancers.
President Jim Ithurralde of Elko presented the North American Basque Organizations (NABO) first ever annual Basque of the Year Award jointly to Jim Jausoro and Domingo Ansotegui on November 29, 1975. Their selection was unanimous among all of the delegates. Letters and telegrams arrived from all over the United States and the Basque Country, and there were personal words of praise from Idaho Senators Frank Church and James McClure, Governor Cecil Andrus, Idaho Representatives Steve Symms and George Hansen, Bishop Sylvester Treinen, Secretary of State Pete Cenarrusa, Boise Mayor Richard "Dick" Eardley, and a special telegram from Jon Oñatibia from Euskal Herria. NABO President Ithurralde, and Vice President Frank Maitia, of Bakersfield, and several other NABO delegates traveled to Boise to personally thank these icons of Basque culture. For more than fourty years Jim and Domingo worked with the Basque children of Boise Valley. In their own quiet way these two men contributed in a great way to America's awareness of the Basque people and their heritage through their music. Jim and Domingo spent countless hours away from their families and used their vacation days from work to travel with the Oinkaris Basque Dancers.
Juan Zulaica
Throughout the 1970s and 1980s, Jimmy Jausoro and Domingo Ansotegui continued playing for Basque dances all around the western United States, the Oinkari Basque Dancers and the Boise'ko Gasteak. After Domingo's death in 1984, Juan Zulaica assumed the position of Jimmy's partner and tambourine player, and Domingo's son, Dan, took his chair behind the drum set in the dance band. In 1985 the Oinkaris made a 25th Anniversary tour of the Basque Country and highlighted the significance of these dedicated musicians, and the same year Jim Jausoro was selected for the national Endowment of the Arts National Heritage Award. Oinkari President John Aldape III wrote, "The entire structure of Basque activities in Boise would be so different were it not for the contributions of Jimmy Jausoro." In 1988, Jimmy won the Mayor's Award for Excellence in the Arts from the Boise City Arts Commission and in 1994 was inducted into the Society of Basque Studies in America Basque Hall of Fame. Gloria Garatea Lejardi praised him, "When I hear of someone dedicating their lives to a cause, I always think of Jim and what he has done for the Basque community..." Jim Jausoro was again singled out for his dedication in 2000 when he was chosen for the Idaho Commission on the Arts Fellowship Award and the Idaho Commission on the Arts Governor's Award. Jimmy's humble personality and desire to keep Basque music alive have kept him enthusiastic all these years. Boise'ko Gasteak Director Linda Barinaga captured what the Basques in the United States believe about Jim Jausoro: "What a legacy to a people and a culture!"
Without the dedication of Jim Jausoro and the Basque musicians in Idaho, there would not have been a Basque dance group for the hundreds of teenagers that have passed through the Oinkaris. Those present and former Oinkaris have generally agreed that if they had not participated in the dancing groups, they most likely would not have joined the Euzkaldunak Basque Center, and perhaps not even taken part in other Basque activities in the valley. They might not have made friends with other Basques, and several certainly would not have met their marriage partners, which were also Oinkari Dancers. Jim Jausoro's legacy is one of constructing a musical atmosphere for Basque ethnicity maintenance as well as creating social environments for cultivating that identity.
---
Dr. Gloria Totoricagüena Egurrola, Center for Basque Studies. University of Nevada, Reno
totorica@unr.edu