American Basque Fraternity Auxiliary

By the 1920s in Boise, Idaho, there were two private Basque insurance societies established for men only, which would pay a death benefit, hospital care, and repatriation costs for those indigent and needing to return to the Basque Country. Escolástica Arriandiaga Ondarza saw the need for a Basque women's club, similar to the Basque men's La Sociedad de Socorros Mutuos (1908), or Mutual Aid Society, which had approximately 200 members, and La Fraternidad Vasca Americana (1928), or American Basque Fraternity, and helped she form the American Basque Fraternity Auxiliary group for women in 1930. Escolástica Ondarza served as its President for thirteen years. The women created their own ikurriña, Basque flag, with materials and supplies ordered from Bilbao, Bizkaia, and upon their arrival, Antonia Ysursa began her two-year sewing project in 1930. She hand-sewed the flag, made of silk, and hand embroidered a Tree of Gernika and a gold fringe around the edges. The flag of the American Basque Fraternity Auxiliary was even blessed by a Catholic missionary from Denver on August 15, 1934. Exactly forty-one years, later Escolástica Ondarza and Asunción Camporredondo Ysursa represented the Auxiliary members when they presented the flag to Arthur Hart, Director of the Idaho State Historical Society.
The Men's Mutual Aid Society, Socorros Mutuos, was a private insurance fund created in 1908 for medical emergencies, funeral costs for those unable to afford the expenses, and for long-term disabilities. La Organización Independiente Sociale, the Social Independent Organization, which was formed in 1933, was more the women's counterpart of the Socorros Mutuos. Their annual fee for benefits was $2.00. According to its 2002 Treasurer, Audrey Arregui Groff, "It remains strictly an insurance fund to which members now pay a yearly fee of $15.00, and there is a death benefit of $750.00. We have 147 members, all Basque or married to a Basque, that pay their annual fee. We used to have card parties, rummage sales, and dances to raise money for the fund to make sure we had enough to pay these funeral benefits, but we haven't needed to raise money anymore. The dues are sufficient to pay the $750.00 benefit. We don't have any legal contracts or anything. We have a handshake, and our word. That's it."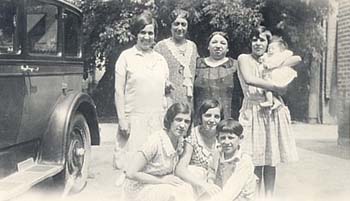 From top left: Marie Yribar, a friend, Juana Arriola Uberuaga, Petra Uberuaga, Juanita, Marie Uberuaga, and Joe Uberuaga (Boise, Idaho -- early 1920s)
The men's La Fraternidad Vasca Americana, Basque American Fraternity, formed in 1928, gave financial assistance but also included different areas of promoting United States citizenship, learning English, and promoting Americanization of Basques. The women's American Basque Fraternity Auxiliary was formed in 1930 with the same goals of learning about the United States, becoming and being good citizens, and promoting learning English. Joe M. Uberuaga remembers his mother, Juana Arriola Uberuaga, preparing for the Basque Fraternity Auxiliary meetings every month or so. "It was a chance for the women to get out of the house and have some fun. I know they gossiped about everyone and everything because Mother always had lots of stories to tell the next day. But they also helped solve each other's problems of getting around in the community. You know, getting to the dentist, making bank deposits, learning how the schools functioned in the United States- those kinds of things." However, no one seems to remember anyone practicing any English at these meetings.
The Basque Girls' Club
The "Basque Girls' Club", "Basque Girls' Sewing Club", and the "Basque Girls' Knitting Club" are all actually the same group of women. Formed in 1936 with mostly second generation Basque members, these women wanted to create their own social network separate from that of their mothers'. This collection of friends, led by President Sue Letemendi, met every Tuesday night in the 1930s and 1940s and organized an annual Halloween costume party and an annual dinner and dance for members and their dates. They arranged dance classes and parties at Hyde Park for the Basque children of the community, and held competitions to carry buckets of water on their heads, and taught the children how to play the spoons. The Basque Girls' Club also had dinners and dances where the general public was invited and Jimmy Jausoro and his Orchestra entertained. Jim was actually the only male ever granted membership.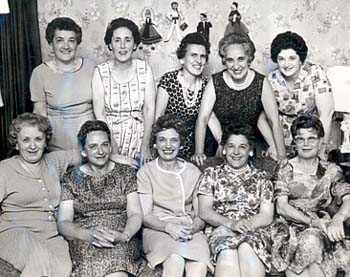 The charter members of the Basque Girls Knitting Club are, from top left, Maria Alegria, Rose Murelaga, Juanita Yribar, Vicki Urresti, Tomasa Erquiaga, Juanita "Jay" Hormaechea, Marie Arregui, Sue Anduiza, Petra Cengotita, and Espe Alegria (Boise, Idaho 1962)
In the 1950s, the women volunteers catered dinners at the Basque Center to raise money for the building construction. The Basque Girls' Club originated the Euzkaldunak Incorporated Basque Center November Mortzilla Dinner and Carnival Bazaar, where all enjoy Basque cuisine and Basque foods are sold to the public. Children play various games and make art projects at the carnival and adults play BINGO for hours, hoping to win a prize while raising money for the Euzkaldunak, Inc. Prizes are donated by local businesses and Euzkaldunak members make additional items. There is nothing distinctly "Basque" about the event anymore except for the cuisine and mortzillak, blood sausages, and the ethnically Basque customers.
At one time, there were thirty-three members in this women's club, but in 2002, the group has eight active members still living who continue to meet monthly. These Basque women have volunteered in community projects such as the Red Cross bandage rolling effort for WWII. They also sent correspondence to United States military troops during World War II to help lift spirits. Juanita Uberuaga Hormaechea kept a copy of a letter she sent to a United States military squadron explaining who she and her club were, and how they were "so very very proud to be Basque in America where all individuals are respected. You are all in our prayers." The Basque Girls' Club participated in fund drives for the Lung Association, and assisted at the Nampa Idaho State School and Hospital with volunteers. After the 1970s, members' activities turned to mostly social events such as day outings to Idaho City, picnics and barbecues, dinners and birthdays parties. Mary Larrondo joined the Basque Girl's Club in the 1950s after she moved to Meridian from Glenns Ferry. "Oh, we've had a great time over the years. You know there are only a few of us still alive but boy did we have a good time. We volunteered for many activities and put on some fantastic parties. Jay's scrapbooks have pictures of us at our Halloween parties. Maybe that's not such a good thing. We were crazy!" Indeed, Juanita Hormaechea's collection of more than one hundred photo albums are overflowing with evidence of their friendship, sisterhood, humor, and pride in culture and Basque identity.
Aiztan Artean
The next generation women's club, The Aiztan Artean, Among Sisters, is composed of younger Basque women who volunteer to support Basque fundraisers, events, groups, and activities in the Boise area. The club commenced meeting in 1972 and is a social-service group of women who are of Basque heritage or are married to Basques. The founding young Basque women pledged to support the Basque Center activities and to further activities for younger members of the Basque community. They are the next generation of females after the Basque Girl's Club. Gloria Subisarreta Miller, Toni Murelaga Achabal, Clarine Anchustegui Villeneuve, Liz Dinse, Leandra Jayo Parker, Julie Egurrola Bilbao, and Chris Bideganeta LaRocco accepted leadership roles for the initial year and hosted an informal reception at the Basque Center in March 1973 to welcome and encourage additional women to join.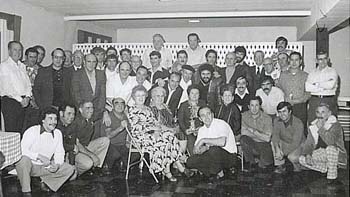 At the Basque Center (Boise, Idaho 1978)
The Aiztan Artean club members sponsored Basque cuisine cooking classes at the Euzkaldunak Basque Center during the months of March, April, and May of 1975. The fifteen to twenty women at each session learned the intricacies of food preparation from Basque Center cook Sabina Arteta Oleaga. Each week a different menu was prepared which included codfish, tripe, ink fish, brazo de gitano cake, rice pudding, and flan custard. Sabina Oleaga would demonstrate each of the steps of food preparation and cooking, and then the participants enjoyed the presentation and the tasting afterwards.
Today, the more than forty members host Basque Center dinners, a Mothers' Day Luncheon, and monthly meetings at private homes. They also organize and host a Girls' Night Out, and a Sweethearts' Dinner. The Aiztan Artean help with a children's carnival that is a part of the November Mortzillak Dinner and Carnival Bazaar. Basque youth have their faces painted with artistic figures, they decorate cookies, which they then can eat on the spot or take home. They participate in carnival games of "fishing" for prizes behind a screen, and "spin the wheel" for prizes- all organized by the women of the Aiztan Artean.
Bibliography of sources
Totoricagüena, Gloria. Boise Basques: Dreamers and Doers. Serie URAZANDI. Vitoria-Gasteiz: Eusko Jaurlaritza. 2003.
---
Gloria Totoricagüena Egurrola, Center for Basque Studies. University of Nevada Reno
Photos: Copyright © 2001 Basque Museum & Cultural Center, Boise, Idaho USA All rights reserved. Center for Basque Studies, Reno, Nevada USA
http://www.basquemuseum.com/oralhistory/index.htm